An estimated 7,378 people per day view our Digital Sign.
Our Member's ads run in six-second increments and are guaranteed to run at least 5 times per hour. This means each ad will show at least 630 times a week. This is a rate of five cents per ad when paying the member rate of $30 a week.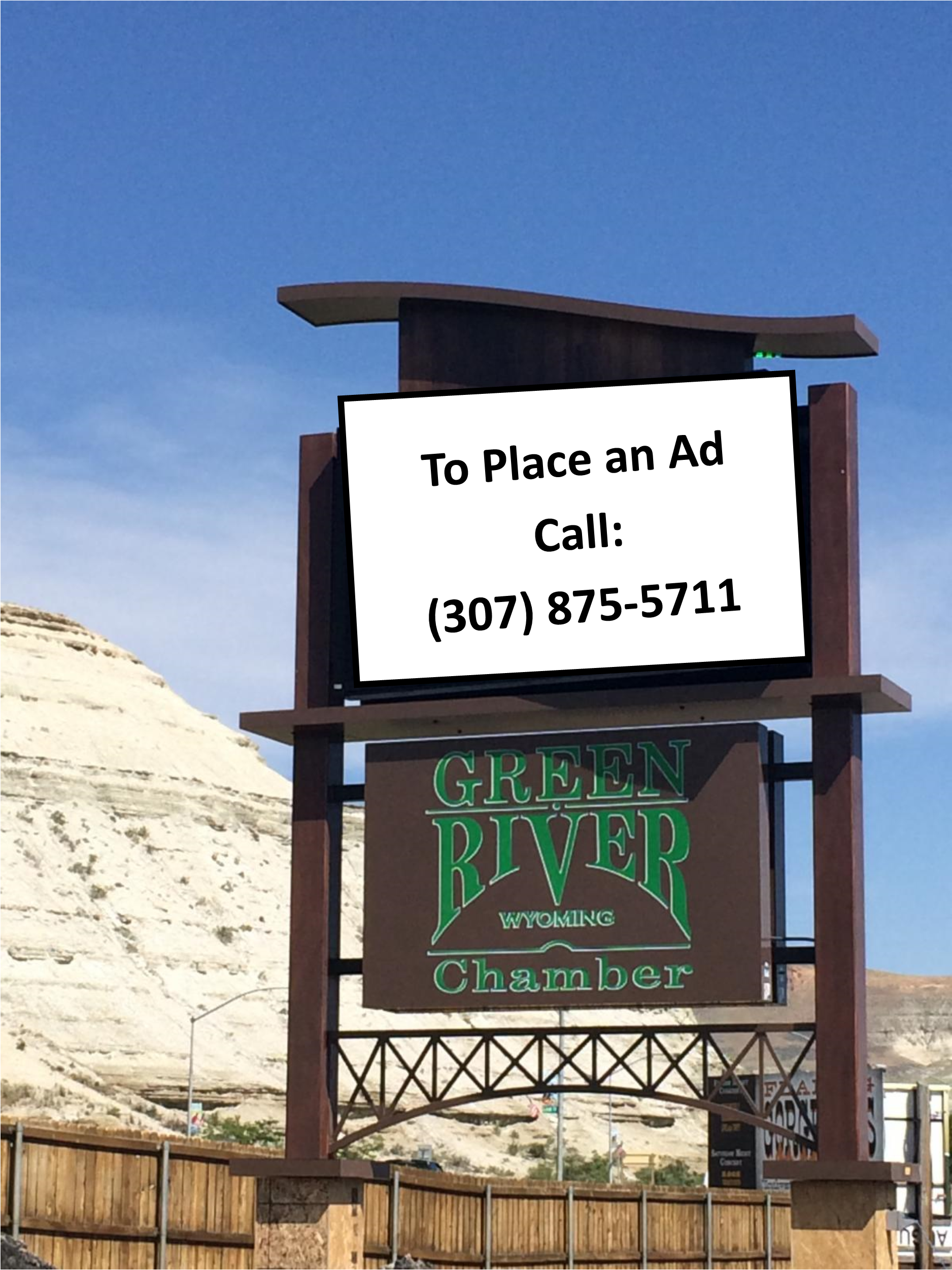 The billboard will be changed on a monthly basis. All ads must be emailed to membership@grchamber.com 30 days before the ad will air.
All businesses/organizations must realize that they must produce the ad or if they want the chamber to make it will be a plain background with simple text.
We broadcast on a loop that runs from 5 A.M. to 10 P.M. (Sunday-Thursday) and 5 A.M. to Midnight (Friday and Saturday.)
Ads must be approved by the Green River Chamber of Commerce staff, As we reserve the right to edit any and all ads to fit in line with our ethics.
Full payment must be received before any ads will air.
Cancellation must be 3 days before the first of the month or an amount of 50% of the total payment will be charged.
Absolutely no vulgar or political ads, as per the Green River Chamber of Commerce Organizational Bylaws.
Emergency ads will air when required, stopping all other ads. Clients will be compensated.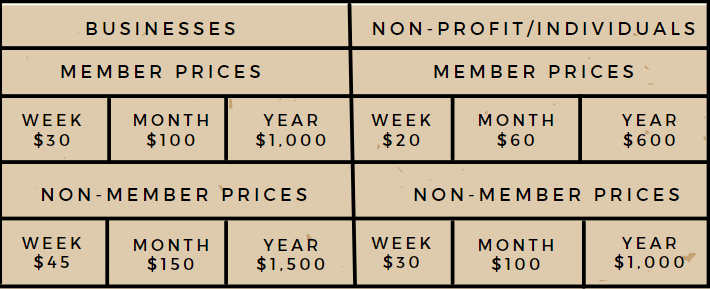 Technical Specifications:
Display Dimensions: 10 ft. (W) X 6 ft. (H)
Pixel Dimensions: 432 pixels (4.5 inches) (W) X 240 pixels (2.5 Inches) (H)
Images: PNG or JPEG
Videos: Uncompressed .avi, mp4, .mpg or .mpeg, .mov, or .wmv. Must be 24 bit, 30 FPS.
2-3 elements can be used in each ad.
Location Traffic Volumes:
Wyoming Department of Transportation's Annual Average Daily Traffic (AADT) estimated 7,378 vehicles pass daily.
Sign content should promote the Green River and Rock Springs communities. Messages must highlight events, sales, and other happenings. All content loaded to the sign must be appropriate and reflective of the Chamber's mission. Sign contracts will be managed by the Executive Director. Provided that the advertisement language fits these guidelines, space can be sold and loaded to the sign without the Board's Executive Committee approval. If the Executive Director has questions about the content of an advertisement, the Executive Committee should be consulted.
Business advertisements
Green River Chamber of Commerce - advertisements and slogans to promote membership, chamber events, etc.
Special city, school and non-profit programs, cultural events, services, events and promotions if they serve to promote events and non-profit activities that benefit charity or promote culture, recreation, or education.
Recognition of significant team or individual championships or achievements.
Political, religious or advertisements from special interest groups.
Discriminatory or offensive messages.
Personal messages (birthday, anniversary, etc.)
Messages must be brief. (Example provided below)
Remember to keep your message as brief as possible, using only two or three elements (graphics, logos, pricing, and taglines are all examples of individual elements.)
Few elements
Most important elements is big and bright
Effective color, good constrast
Text is large - uses all available space
Graphic supports the message
Use simple, concise text
Simple design
Thick stroke
Easy to read
Sans Serif Fonts:
Arial Black, Arial Bold, Eras ITC, Franklin Gothic Heavy, Impact, Tahoma, Verdana
Serif Fonts:
Palatino, Rockwell Extra Bold, Times New Roman
A good general tip to follow when choosing colors for your messages is to use a black background and avoid using a white background.
Outline text.
Contrasting colors make messages easy to read. Contrast refers to the use of opposing colors or the difference between light and dark areas of an image.
Import photos with smooth gradients without a lot of details.
Only show a portion or focal point of the image.
Save final images at 72 dpi or greater.
Please contact GR Chamber at 307.875.5711 or membership@grchamber.com to schedule your dates for the sign or to have any questions you might have answered.