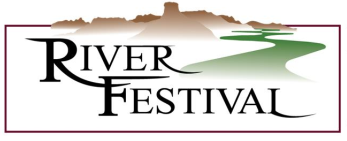 Join the Green River Chamber in the celebration of our amazing river! Always the third weekend on August 16th and 17th, we host the River Festival, a fun-packed two-day event! This event has something fun for everyone!
The River Festival starts off at 4 PM on the third Friday of August, where we have music, beer, vendors, our shrimp boil, food trucks, and once it gets dark, FIREWORKS!
Did someone say shrimp? Yes, I did! Our Cajun shrimp boil is a fan favorite! You will have the option to purchase a 5:00 dinner ticket or a 6:00 pm dinner ticket. Prices are $20 for "Canoe" (approx. ½ lb of shrimp) plus potatoes, corn, sausage, and soda or water, $30.00 for "Boat" (approx. 1 lb of shrimp) plus potatoes, corn, sausage, and soda or water. $55 for  2 "Boat" our Date Night special. We can also do TO-GO boxes, for those of you who would like to eat at home. We will also be selling tickets for a spaghetti dinner served by the Knights of Columbus as a fundraiser. Tickets can be purchased at the Green River Chamber of Commerce!
The fun really begins on Saturday morning with our Run with the Horses Marathon/Half/10K at 7 AM, this awesome city and trail marathon is a lifetime experience as runners, pass by wild horses that are curious as to what they are doing on the trail. Many runners get beautiful photos with wild horses up close! With a 7-hour time limit, this fun race will end just in time for you to have a nice cold beer and enjoy our DJ!
If your luck is running super high that day you will come back to Expedition Island and hear the news that your duck won the Great Duck Race! This amazing Duck Race happens at NOON on Saturday, the best part you ask, step a bit closer... YOU DON'T HAVE TO BE PRESENT TO WIN!
The River Festival Car & Bike Show is a beautiful display of vintage, old, and new cars and bikes! You can purchase an entrance ticket at the event! If you would like to show your car off, please contact the Green River Chamber at 307-875-5711.
Cast your votes for your favorite fish, during the Flaunt Your Fish competition! Local people and businesses compete for the best-decorated fish in town!