Run with the Horses Marathon/Half/10K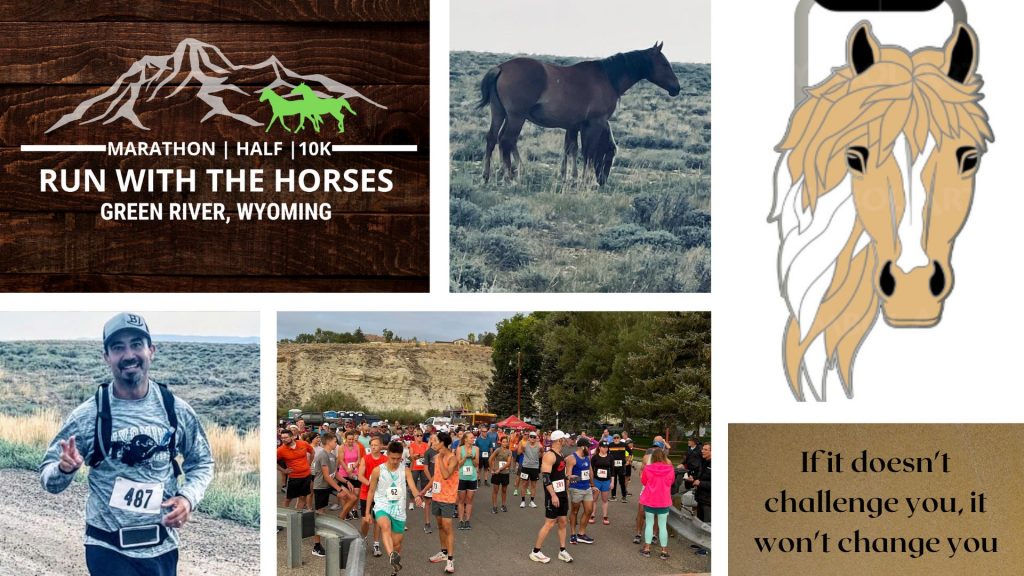 The race is always the 3rd weekend in August. The race is held in conjunction with the annual River Festival which kicks off that Friday with a cajun shrimp boil, homemade/handmade craft vendors, beer gardens, a band, food trucks, and FIREWORKS! The marathon will be held on Saturday, August 17th, 2023.  Packet/bib pick-up will be 4-8 pm at The Expedition Island (475 South 2nd East) on August 18th, be prepared to sign a waiver of release for the Green River Chamber of Commerce on the day of packet pick-up, as runners will be gaining extreme elevation after just the first 2 miles...  
All 3 races begin  Saturday @ 7:00 a.m. in front of the pavilion at The Expedition Island. The elevation is 6100' at the start. The first 2 miles are city streets and the paved Greenbelt Trail along the Green River. The course then turns onto The Wild Horse Loop Tour Road, a County graded dirt road. You will begin your run up 1st Springs Canyon, approx. 2 miles. At the head of the canyon, the elevation will now be about 7300'. You will then be running across the top of White Mountain on the Wild Horse Loop Tour over rolling hills between 7300 and 7500'. Previous runners described the course as challenging and rewarding. 
This is a high plains desert, there will be no shade trees after you leave the city streets. Many runners stop and take photos of the vistas and any wild horses and other wildlife they encounter. This is an up-and-back course, at the halfway point of each respective race you will turn around and return back to Green River to the Expedition Island. 
There will be aid stations every 2 miles starting at mile 2. Water, Gatorade every 2 miles. There will be port-a-potties at the race start, mile 2, mile 6.5, and at 13.1 marathon turnaround.  With a 7-hour time limit for all levels, this is a unique race! There will be awards for the winners in several categories. 
Your entry fee includes a t-shirt and a very unique finisher medal.  10K runners if interested will need to purchase their t-shirts for an extra $20.00 each. Full and half runners - your shirts will be included in your race fee. 
A professional timing service will be utilized this year, so your race results will be available immediately upon finishing your race.